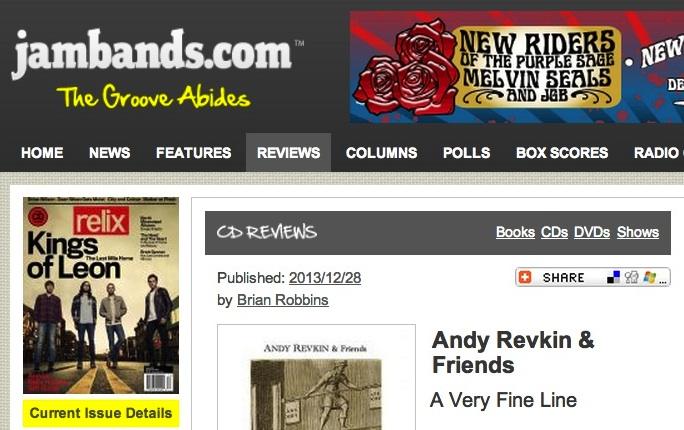 RELIX MAGAZINE / JAMBANDS REVIEW
What we have here is a tasty mix of roots goulash. Revkin and company never sound like anyone 'cept themselves, but the vibes they generate may put you in mind of some other makers of marrow music. The left-arm-out-the-window-with-your-heart-on-the-sleeve highway twang of "Grandpa's Cadillac" (wicked guitar and pedal steel by Joe Johnson and Art Labriola, respectively) and the smart/smart-ass lyrics and low-gear chug of "Liberated Carbon" feel like some good ol' John Hiatt. The can't-help-but-sing-along "Bills Bills Bills" could be vintage Commander Cody, with Mark Murphy's whumping upright bass acting as both carburetor and
drive shaft. Bruce Molsky's fiddle and Murphy's ominous bass (along with the lightest of percussion from Ken Veltz) ease Revkin's "Black Bird" into a Railroad Earth-style folk-gothic place, while "Breakneck Ridge"'s swing from up-tempo bounce to minor-chorded simmer might put you in mind of RRE's Black Bear Sessions.
And "Blame It On Biology" could've been recorded in a cool and goofy-grinning place where Dan Hicks hangs out with the Tijuana Brass....
The title song, about life's close calls.
"Arlington," featuring Dar Williams
A mining death foretold by a bird's flight. Bruce Molsky, fiddle.
Bills Bills Bills, an ode to debt. Performed in Uncle Wade. from http://veryfinelines.com